GUARANTEE AND SERVICE
✅
3 year warranty.
✅
Returns Fast refund,100% Money Back Guarantee
✅Delivery time Worldwide Shipping 6-14 business days
✅Handling time Ship within 6 hours after payment
About our item
1. Comfortable and breathable design: Made of lightweight and environmentally friendly EVA material, comfortable and light foot feel, easy to experience zero burden outdoor leisure, light shoes, give you a different experience
2. Non-slip and durable design: the sole is made of rubber, with good wear resistance and anti-slip effect, it can provide you with a sense of relaxation and comfort when wearing.
3. Easy to put on and off: Magic clasp design makes shoes easier to put on and take off, fast wear and tear off only 3 seconds, while wearing comfortably on long-distance riding, improving the stability and durability of the shoes
4. Quickly drain the drain hole: Quickly dry the upper fabric and top quality outsole with venting holes to ensure proper water flow, resulting in a cooler, healthier shoe environment, quick drying, and great comfort during water sports.
5. Outdoor sports shoes: The lighter the weight of the shoes, the smaller the body load, the multi-functional cycling shoes, which are ideal for mountain, road bike, beach, swimming, surfing, swimming pool, sailing and travel. Unisex, please choose the shoes that suit you according to the length of the feet in the size chart.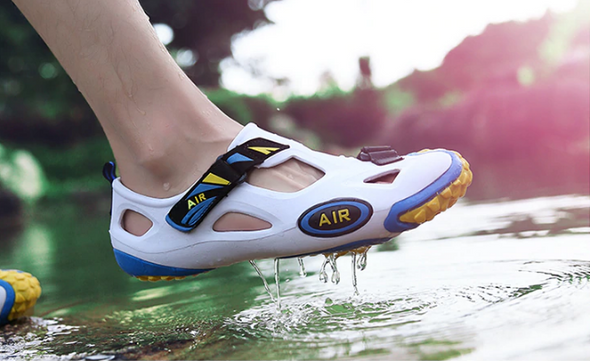 SHOE SIZE
Tag Size
US
UK
EU
Feet Length
Feet Width
Inches
Cm
Inches
Cm
39
6
5.5
39
9.92
25.2
3.59
9.12
40
7
6.5
40
10.16
25.8
3.66
9.3
41
8
7
41
10.43
26.5
3.74
9.5
42
9
7.5
42
10.71
27.2
3.81
9.68
43
10
8
43
10.94
27.8
3.88
9.86
44
11
9
44
11.22
28.5
3.96
10.06
45
12
9.5
45
11.46
29.1
4.03
10.24
46
13
10
46
11.73
29.8
4.1
10.41
47
14
10.5
47
12.01
30.5
4.17
10.59
48
15
11
48
12.28
31.2
4.24
10.77

PRODUCT DESCRIPTION
Upper material: EVA
Shoe design: comfortable footbed
Closed design: convenient magic paste
Sole material: rubber outsole
Product color: white light gray, white red, black blue, black red
Scope of application: boating, kayaking, windsurfing, beach volleyball, mountain, road bike and other outdoor sports
Product size (foot length): 35 (225mm), 36 (230mm), 37 (235mm), 38 (240mm), 39 (245mm), 40 (250mm), 41 (255mm), 42 (260mm), 43 (265mm ), 44 (270mm), 45 (275mm)

Tips: The above calculation method is only suitable for normal foot type, except for special foot type. The foot fat and the instep height are large, and the thinner person chooses the small size.
Correct measurement method
1. Prepare a piece of white paper, a standard scale
2. Please step on the flat white paper and touch the heel and toe with the pen. Take the vertical distance between the two points for the correct foot length.
3. If there is a small gap between the length of the left and right feet, one foot should be too large for the measurement standard.
4. The measured data should be roughly the same size when wearing peacetime.
note:
Arrival time is about 5-10 days, please be patient
Since the product is measured manually, there may be an error of 0.5 mm, please refer to the actual size.
Each computer monitor responds in a different color. Please refer to the actual color.
If you have any questions, please feel free to contact us by email. I am very happy to serve you and wish you a happy shopping.